Search engines display rich snippets in their search results pages as enhanced search results. Rich snippets are visually more appealing than standard organic results. Webmasters implement structured data on their sites so that they are represented as rich snippets.
Types of Rich snippets:
Paragraphs
Tables
Lists
Videos
Knowledge graph
Featured snippet
Media features
Tweets
App ranking
Price, Stock, Informations
Breadcrumbs
Sitelinks
1. Paragraph Snippets
Brief information on a topic is provided here in the form of a snippet. In some cases, queries are meant to provide additional information or to ask questions. The following is an example of a paragraph featured snippet that's an answer box:
2. Table Snippets
It provides users with a snippet for visualizing data in different types of comparisons. Featured snippets on Google snippets predominantly consist of tables. Google has improved the snippets for the pages that include big tables. They're just like the snippets list, but columns are clearly separated and snippets also include the table header.
3. List Snippets
A list may be used to rank something, show the steps involved in a process, or identify one product from another. It's possible to order list featured snippets, and there can be bulleted lists for ranking, features, and "best of" lists.
4. Video Snippets
The video featured snippets are another thing you should try to rank for because YouTube is one of the most popular search engines in the world.
A featured snippet will display a video with the best answer to a user's query if it provides the best answer. "How-to" queries can benefit from the video featured snippets.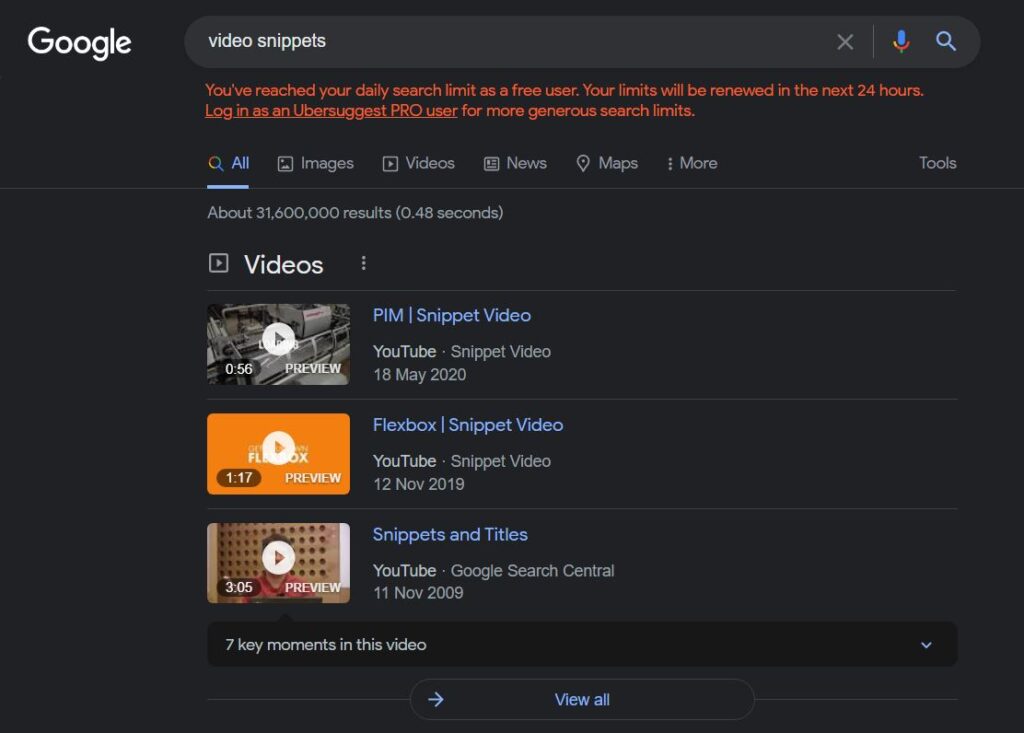 5. Knowledge Graph Snippets
Graphs of knowledge provide detailed knowledge about a variety of entities, including companies, famous persons, books, movies, songs, places, etc. In addition to the SERP features, it may also contain similar entities, relations between entities, upcoming movies, other famous songs by the artist, events, social profiles, ratings, video carousels, etc.
This normally appears in the right panel on the desktop, but it can also be found at the top of the main feed. When using a mobile device, it is usually the top of the screen.
6. Featured Snippets
This snippet provides an instant answer linked to the website based on the website content. Whenever a question queries like "How to write a check" appears in the SERP, it appears above the organic search results.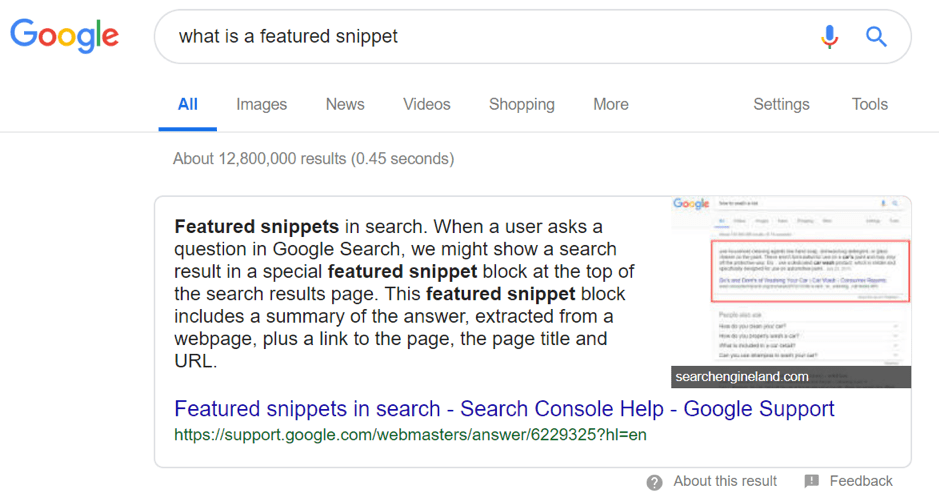 7. Media feature Snippets
Images speak louder than words. Image packs are common on SERPs. Images are often displayed by Google as part of search results, especially when it comes to fact queries ("Singapore", "tables") or product queries such as "LED lighting", etc. These results are displayed anywhere in the organic search results.

8. Tweet Snippets
SERPs may sometimes show tweets from a Twitter account. You should use it if you are looking for fresh news, such as about celebrities. The first place we go-to for the latest news and opinions is Twitter, as we all know. Here is an example of Dwane Johnson: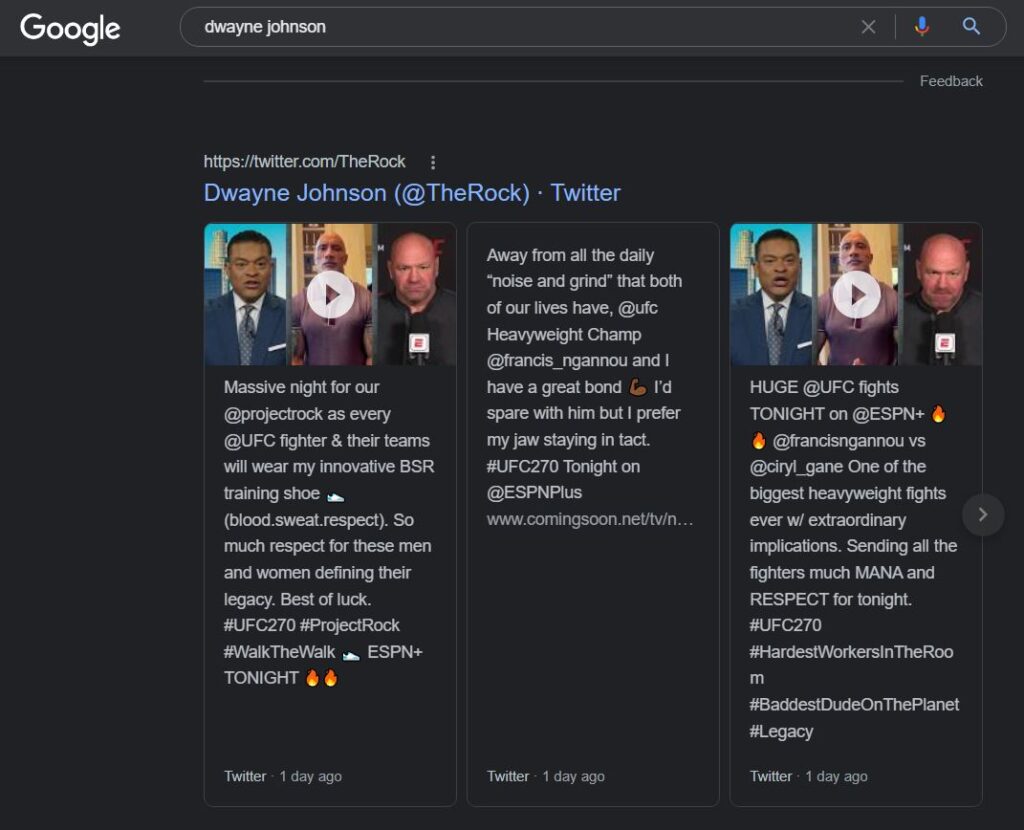 9. App ranking Snippets
You can use App indexing if you have a mobile app that contains your content (for instance, a mobile reader for your news portal). Suppose you have a news portal. Mobile SERPs include links to open the content within the app. A user who visits the Google Play store (or App store) without the app will be directed to the Google Play store. For further information, see the image below:
10. Price, Stock, Information Snippets
A product, course, software, service, you name it, can have its price enhanced as part of an organic result. A lot of other information can also be included, such as availability of stock, type of software, the number of calories for meals, author of the book, date of publication, etc.
11. Breadcrumb Snippets
Their website navigation is familiar to you. The traditional URL is replaced in the SERPs. An abbreviated and common version of the URL is provided. Chevrons are used to separate categories and leaves. If you use structured data on the desktop, you can achieve this, but in mobile SERPs, it happens automatically.

12. Site link Snippets
In the SERP, they are commonly referred to as a "six-pack." Mostly for branded searches, they appear in the six-pack. These links contain the title and description of web pages within a current website. Two to ten links may be included. On a mobile device, the appearance differs from a desktop. Additionally, small site links may appear within organic results as a vertical enhancement.
Summary
Search results provide rich snippets to quickly answer a user's question based on information found on a webpage. Pages that have been indexed by Google are automatically used for featured snippet content. Tables, lists, and definitions are the most common featured snippet types. The newly-added snippet character limit will override any automatically-updated metadata like that, which will display a shortened description.