Our

Local Cloud HRMS (HR management system)
We are selling the Local Cloud ERP HR management system (HRMS), with no monthly or annual charges, lifetime free! The ERP system will be installed on your computer, the data will be saved in your local computer and you can access through any of your devices, E.g computer, smartphone, and tablet from the same LAN.
No limit on how many devices.
No limit on how many users.
No monthly or annual charges, free forever.
Can access through any devices. Computer, smartphone, and tablet from the same LAN.
An hour of remote training and setting up the system.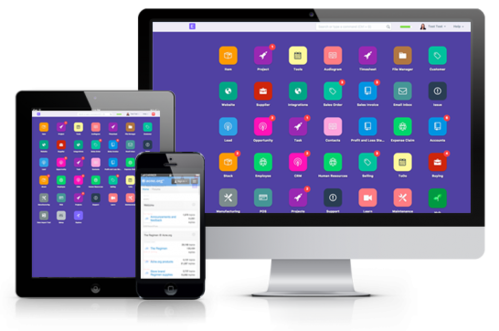 What is HR management system (HRMS)
HR management system (HRMS) is a combination of systems and processes that connect human resource management and information technology. HRMS will revolutionize your workplace.
The automation of repetitive and time-consuming tasks associated with human resources management is made simple, allowing companies to even rate their employees to have better retention rates.

Selecting an HR management system(HRMS) to handle HR activities is a trademark of the modern company.
There are few successful companies in any industry that do not have some sort of automation in place for HR tasks at this juncture. Mobile accessibility has further worked to transform the landscape of HR.
Putting information and task management at the fingertips of employees and managers. The HR management system (HRMS) has helped to effectively break down bureaucracy and "flatten" many organizations.
Functions of HR management system (HRMS)
The function of the human resources department involves tracking employee histories, skills, abilities, salaries, and accomplishments. Replacing certain processes with various levels of HR management system(HRMS) can distribute information management responsibilities so that the bulk of information gathering is not delegated strictly to HR. By allowing employees to update personal information and perform other tasks, information is kept more accurate and HR professionals are not bogged down.
Each module performs a separate function within the HR management system(HRMS) that helps with information gathering or tracking. HR management system (HRMS) modules can assist with:
Managing payroll
Recruitment and onboarding
Gathering, storing, and accessing employee information
Keeping attendance records and tracking absenteeism
Performance evaluation
Benefits administration
Learning management
Employee self-service
Employee scheduling
Analytics and informed decision making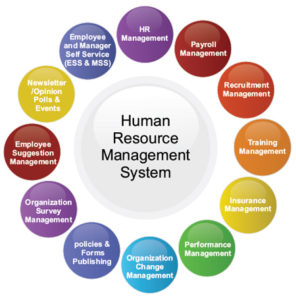 HR management system Security (HRMS)
Security is of great concern when it comes to choosing a human resources management system. The information stored in a HR management system(HRMS) is highly sensitive, including proprietary company data and volumes of personal information about employees. It is essential for companies to choose a solution that utilizes a method of secure transmission such as SSL which encrypts the data as it transmits over the internet.
Internal security is also critical; information should be guarded by passwords that have varying levels of access in relation to what is needed for the job position. While most companies now allow employees to access portions of HR management system(HRMS) solutions, employees must understand the importance of maintaining the integrity of the system and protecting the security of the information it contains (i.e. no password sharing). Safeguards should also be in place to quickly bar terminated employees' access to systems.
The average prospective user usually lacks the technical expertise needed to properly identify and plan what IT solution is most suitable for their business needs. Naturally, searching for a firm that is capable of guiding them in making smart at the mean time affordable IT solutions.
We, Vue Tech Pte Ltd pride ourselves in providing precise and affordable IT solutions to empower and prosper your business. We will discuss and provide honest opinion on what are the IT services your business may need. Thereafter, providing you with the service. To get started, just Contact Us to speak with our friendly customer care delegate. Look forward to resolving your inquiries and respond to them soonest possible.